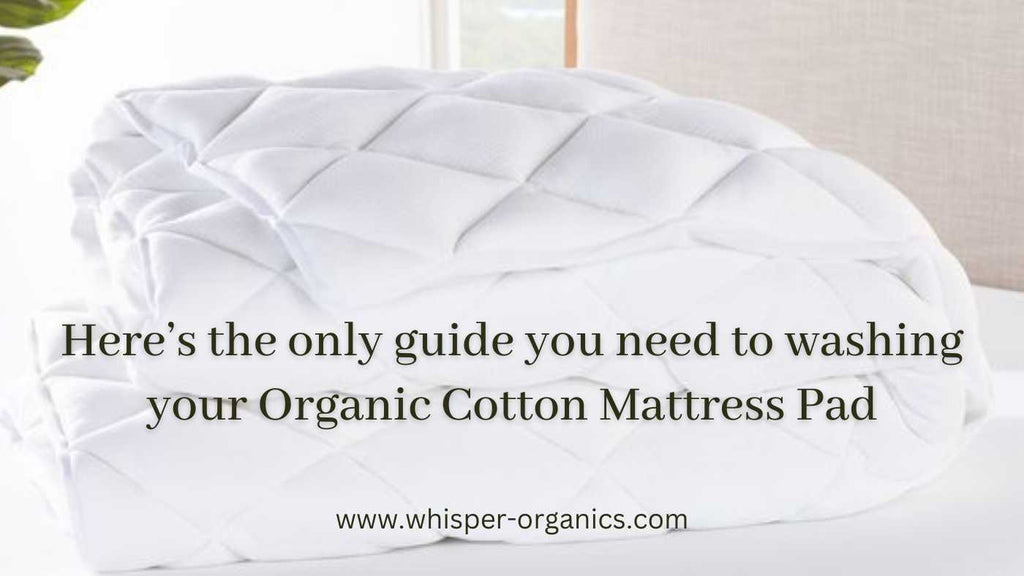 Here's the only guide you need to washing your organic cotton mattress pad
Are you afraid of washing your organic mattress pad because it might lose its softness? Organic cotton mattress pads also need washing to get rid of dust and dirt. What you need is the right technique for handling this delicate material. Read on and learn how to clean your organic mattress pad.
NOTE: These techniques also apply for washing your organic cotton mattress protector or mattress cover.
What you should know before washing your organic cotton mattress pad
Certified organic cotton is the best mattress material available nowadays in the market. Products with the GOTS label follow organic farming standards and produce cotton with premium quality and safety. Organic farms regulated by GOTS do not use any harmful chemical on their plants.
At its best, a GOTS 'organic' label means 95% of the cotton fabric is natural and toxic-free. But a premium brand, like Whisper-Organics, pushes the standard to 100 percent GOTS certified organic cotton. This means the organic cotton mattress pad you buy from our shop contains no hazards. You are guaranteed all the comfort you need while using your bed.
Pre-use care tips
When you open your mattress pad, expect it to be loose and a little larger than your bed. But do not worry. GOTS certified organic cotton do not contain chemicals used to shrink cotton. As long as its size matches your bed's dimensions, it's the right fit. What you need to do is give it a pre-wash. After pre-washing and drying your mattress pad, the cotton material will shrink a little and be a perfect fit for your bed.
Steps to prewashing your organic cotton mattress pad
With both hands, or with a helper, gently spread out the mattress pad to remove its folds and wrinkles.
Shake off to remove any dust and loose particles.
Remove any unnecessary items clipped to the mattress pad or included in its plastic wrapping such as price tags or catalogues.
Set your washing machine to gentle or delicate wash mode.
Use either cold or warm water to protect both the cotton and its design. Temperatures that go beyond 40 ºC is not advisable for organic cotton.
Do not use any detergent or bleach. This is the pre-wash stage only. Your mattress pad is still brand new and untainted with foreign material.
Machine dry the mattress pad. To help even the

mattress pad's

fluffiness, use down fluffer rings or tennis balls. Remove immediately from the machine to avoid too much crease.
Air dry on a drying rack. Avoid using a clothesline to dry the

mattress pad

.
Avoid drying the comforter under direct sunlight for more than an hour.
Washing tips
When there's a spill that stains the cotton, treat and wash it immediately. But mattress pads also get dirty with frequent use. Washing also restores its fluffiness. Wash your mattress pad at least once in three months. The techniques for washing organic cotton mattress pad are generally the same with pre-washing instructions mentioned above. But there are additional and equally important details you need to know as well.
Wash alone
Avoid washing your mattress pad alongside other clothes. Some of your clothes might contain colors that can discolor your cotton. At the same time, it makes the cleaning more effective. You and your machine can focus on cleaning your mattress pad.
Check for tears and loose threads
It is important to check for tears and loose threads in your matters pad because washing can make them worse. This is crucial especially for households with children. Without your knowledge, your child can find entertainment in pulling a hanging thread until it creates an opening. Continuous use of your mattress pad also creates tears. If you do not make the right repairs, you will harm your organic mattress pad even more.
Laundry products you need to avoid
Because organic cotton is free from harmful chemicals, it has a very delicate fiber. Make sure you avoid these household products.
Chlorine Bleach
Chlorine destroys the organic cotton. For one, it removes the non-toxic properties of organic cotton. Let's say you bought the organic cotton comforter because it is GOTS certified and 100% natural. You love its softness because it is not harmful to your skin. But once you use chlorine bleach, it is no longer organic. The cotton fibers will absorb the chlorine and lose its organic characteristic.
Using chlorine bleach also weakens the cotton strands and causes discoloration in the cotton. Frequent use of chlorine will decrease your comforter's lifespan. In case you need to bleach the comforter because of a stain, use one that is based on hydrogen peroxide. This bleaching agent is also eco-friendly. You do not need to worry about harming the earth while cleaning your mattress pad
Chemicals you need to avoid in detergents
There are many laundry detergents in the market promising easy removal of stains and dirt. But most of them contain chemicals harmful to your organic cotton and your skin. Here is a list of 10 detergent chemicals to watch out for:
1. Phosphates
2. Paraben
3. Formaldehyde
4. Sodium Lauryl Sulfate and its variants
5. Ammonium Sulfate
6. Dioxane
7. Optical / UV brighteners
8. Benzyl Acetate
9. P-Dichlorobenzene/ Benzene
10. Synthetic fragrance 
Most of these chemicals are linked to cardiovascular problems. Frequent exposure to these chemicals also cause irritation to the nose, eyes, and skin, and can damage the internal organs once they are inhaled or ingested. Because of their strength, these chemicals can also end up damaging the cotton itself instead of cleaning them from dirt.
Use bio-friendly laundry detergents
The ultimate solution to prolonging your organic comforter's life and quality is keeping it safe from harmful chemicals when washing. Go for bio-friendly detergent brands. We chose these five brands to give you a head start. These brands are highly-recommended for mattress pads made from organic cotton.
Of course, there are many more in the market you can choose from. But always remember to check their label for words like eco-friendly, plant-based, baby-safe, or non-toxic. Choose those with no chemical smell. Also visit their brand's website first and check for buyer reviews to make sure the brand delivers its promise.
Dropps
This organic detergent is entirely plant-based. It's loaded with all-natural oils to make your laundry smell good afterward. No dyes, phosphates, or chorine. It is also easy to use. The soap is housed in water-soluble casing. All you need is set your cycle, drop one into your wash, and then press start.
Blueland
This is also an excellent brand you can use for your organic mattress pad. Their dry-form laundry tablets do not contain chemicals that harm human health and cause allergic reactions.
PUR Home
This brand makes bio-friendly detergents in liquid and pod form. Its double-concentrated formula makes their plant-based laundry effective for removing tough dirt and stains without damaging the organic cotton mattress pad.
The Simply Co.
This brand is one of the best for certified organic cotton because of their commitment to the environment. They take pride in using only three ingredients in their laundry detergent - baking soda, washing soda, and Castille soap. This simple formula is more than enough to wash up to 60 loads of laundry.
Biokleen
This plant-based liquid detergent will clean any organic beddings without the risk of harming its fibers. It contains no chlorine, synthetic dyes, phosphates, crude oil-based chemicals, or brighteners. Use this for a hypoallergenic washing that protects your organic product.
Care tips for handling organic cotton mattress pads after washing
For afterwash care, follow these instructions.
1. Tumble dry the mattress pad in your dryer using low heat.
2. Air dry on a plastic drying rack. Avoid hanging the pad on a clothesline because it can harm the quilt. A plastic rack is the best material for cotton because a metal rack can transfer rust to your cotton.
3. Do not use wood either because it might contain chemicals or mold that would stain your mattress pad. Do not dry the mattress pad under direct sunlight for more than an hour. Although UV rays from the sun can kills bacteria and mold, too much sun can make the organic fiber brittle. After an hour of bathing under the sun, transfer the pad under a shade to preserve its quality.
4. Iron your organic cotton mattress pad to remove creases and dry out any damp areas before putting it back on your bed. If your mattress pad is 100% organic, it does not contain a thin plastic film inside it. It's perfectly safe for ironing. 
Conclusion
These washing tips are easy to follow. Apply them when washing your organic cotton mattress pad or your organic mattress protector. You'll effectively remove dirt, stains, and mold, without harming your cotton mattress pad. Taking care of an organic cotton mattress needs a little more attention than other fabric. But that is the right way to handle products made from certified organic cotton. And the outcome is always rewarding. You enjoy an organic mattress pad that's comfortable to use, soft, and gentle on your skin.
Which of these washing tips are helpful to your organic cotton mattress pad?