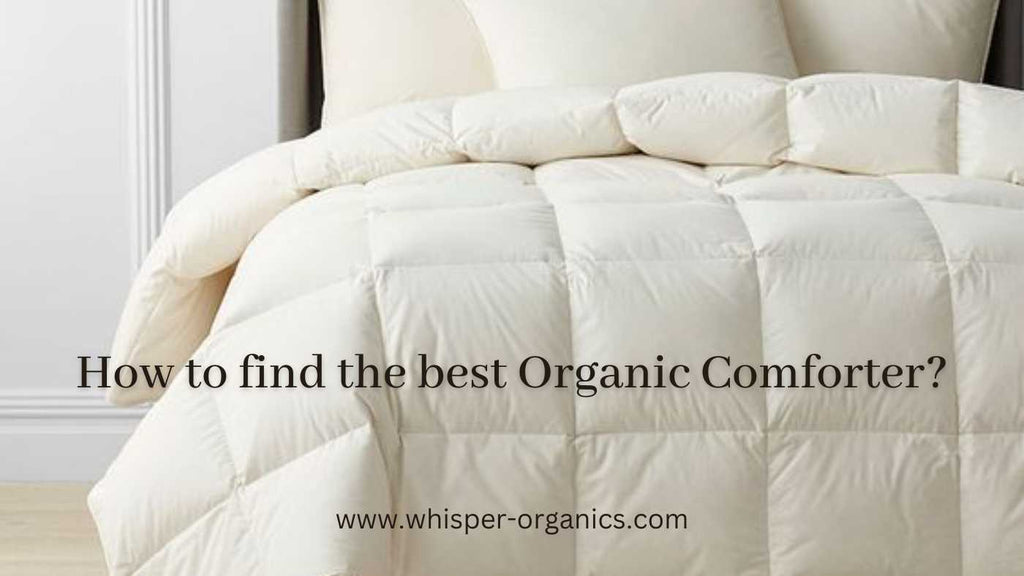 How to find the best organic comforter
Are you looking for the best organic comforter in the market? You deserve the best for your health and your family. Scroll down! Learn how to get your soft, snug, and sustainable organic comforter in no time!
Here's an overview of what you'll read:
Check if the organic comforter brand is authentic
Check product reviews of organic comforters
Four factors to check before buying an organic comforter
Check if the organic comforter brand is authentic
Buying organic comforters nowadays is as easy as clicking a button.
You only have to search the internet and type "organic comforter" on your browser. With one click, you have an array of choices in an instant.
But there are way too many choices. The options can be overwhelming. If you make the wrong choice, you can get scammed.
So, first things first.
Check the brand's website to see if the business is authentic.
Is the business real? Check the website!
If it is easy to buy an organic comforter, it is easy to fall for online scams. Below are the things you can do to verify whether the business is legitimate and safe:
Check the brand's website.
When doing online window shopping, the website is what you check first. These details are what you need to look out for:
The overall look of the website must be professional.
Analyze if the contents have a professional look, feel, and sound. Raise red flags when the website has typos and grammar errors, a sloppy design, and poor-quality images.
Check the return policy.
Does the brand have a return policy or not? It must have one. The next step, check if the return policy is clear and well-worded. Take note of the policy if you receive a defective or wrong item.
Verify the contact information.
Does the business have a physical address, at least one phone number, and an email address?
For the email address, check if the brand has a company domain. That is a good sign that it is legitimate.
When the brand's email address is generic, such as Gmail or yahoo, try sending an email to see if it gets delivered. Consider giving the brand a red flag if it bounces back to you.
Check if there is a padlock icon in the website's address bar.
You can identify safe websites by the padlock icon. It can be found to the left of the website address. If you click the padlock icon, you will find the following information in the dropdown:
- 

The name of the site owner should be the company's name.

- 

A valid certificate that the website is legitimate, such as an SSL

- 

How many cookies are in use

- 

The site is secure 
Check the brand's social media presence.
It is easy for scammers to create fake followers and reviews. The kind of social media presence the brand has can show you if it has a real following.
You can check if the brand is legitimate when:
- 

The brand's website has good professional content, including high-quality and unique images.

- 

Social media engagements come from active followers whose identities you can verify.

- 

The brand's "About Info" is consistent with website content.

- 

Product reviews are posted by people whose accounts you can verify as real customers.

- 

No suspicious phishing and malware links can phish your personal information.
Greenwashing is a serious red flag.
The next step is to check whether the brand is greenwashing.
What is greenwashing?
Greenwashing is an unethical behavior done by businesses in the organic industry. They scam the public about their non-organic products being organic.
How can you tell if the brand is greenwashing?
Here are some practices to watch out for:
1. The brand uses false organic certification labels and seals. Check their website first if the organization that issued the certificate exists. Search within the website if the brand is in the certified products or suppliers list.
2. It can't show evidence their product is organic. These brands casually use words like 'natural', 'sustainable', 'eco-friendly.' But they don't have any accreditation with organizations that certify organic products.
3. Name-dropping or mentioning legitimate organic organizations on their website and social media pages. This is good if there is mutual acknowledgment. But it's mere name-dropping when the mentioned organization does have any indication of the partnership claimed.
4. The raw materials listed are not organic nor produced within global organic standards. Check details and small prints for a list of raw materials used.
5. The product price is unusually low. This is a red flag because organic products are slightly higher than non-organic. The cost of operating eco-friendly items is higher. Reasons include fair wages for workers, difficult access to raw materials, and fewer production cycles. So, give the brand a red flag if their prices are low or mass-produced.
Learn to take these initial safety precautions when doing your online window shopping. They are your keys to making wise and safe decisions for your family's organic comforter sets.
Read on for the next steps!
Check for the GOTS label
So, you have chosen brands that are legitimate and organic.
Next, check if the brand and product are GOTS-certified.
The unique mark of GOTS-certified organic textiles
Global Organic Textile Standard (GOTS) is the gold standard of organic textiles. It is serious about being organic. GOTS takes responsibility for ensuring that the product is organic from start to finish. All supply chains undergo rigid ecological and social criteria to qualify for the GOTS stamp of approval.
GOTS certification is your shield from greenwashers. Plus, GOT-certified items lessen the time spent checking for authenticity.
Here are the features of GOTS-certified textiles:
- 

No chemical pesticides and herbicides are used at any time

- 

No artificial fertilizers are used in farming

- 

Genetically-engineered raw materials and animals cannot be used

- 

Water consumption in farming and production is significantly lower

- 

Raw materials are grown on farms that follow fair and humane labor practices

- 

Products are at least 70% made of natural fibers, and at most 30% come from either conventional, natural fabric grown sustainably or recycled synthetic fabrics 
So, if you choose a GOTS-certified organic comforter, you'll get guaranteed safety, comfort, and warmth for your whole family.
Organic cotton and GOTS-certified organic comforters
GOTS-certified organic comforters are made up of at least 70% natural fibers. Organic cotton is preferred over other organic materials, such as wool, bamboo, and silk.
Why is organic cotton preferred by makers of the best organic comforters?
Because excellent organic cotton comforters are:
1. Ideal for sensitive skin and is hypoallergenic. Organic cotton does not contain any toxic or harsh chemicals. It is the safest, softest, most comfortable material for people with sensitive skin and allergies.
2. Breathable and absorbs moisture well. Cotton is a breathable natural fabric. Night sweats and body fluids are absorbed and expelled well. So, organic cotton comforters make the best choice for 'hot sleepers' prone to night sweats.
3. It does not generate static energy. Dry air produces static energy on synthetic fibers. Friction from this static energy causes discomfort and may lead to insomnia. An organic cotton comforter ensures a static-free peaceful good night's sleep for you and your family.
4. Easy to wash and dry. Choose an organic cotton comforter that is easy to wash. Easiest to care for are machine washable, can be tumble-dried, and do not need ironing. 
How to verify the GOTS label
GOTS is a seal guaranteeing very high transparency and credibility. You can easily access the GOTS database by clicking this link:
GOTS Certified Suppliers Database. The database includes a list of suppliers, their locations, operation fields, and certified products.
The GOTS website has a shop finder, too. Click this link GOTS Shop Finder to locate shops carrying GOTS-certified sustainable comforters.
Check product reviews of certified organic comforters
Authenticity is big deal in finding the best eco-friendly sustainable comforter. The same goes for product reviews.
Here is a list of what you want to look for in reviews for the best eco-friendly comforters:
1. Experiences of sleeping on natural and organic materials. Was the brand claiming to have organic materials comfortable to sleep in? Did users with sensitive skin develop reactions similar to symptoms similar to exposure to harmful chemicals?
2. Healthy sleeping environment reviews. Did sleeping on eco-friendly comforters create a healthy and comfortable sleeping environment?
3. Fair-trade social and environment criteria. The brand is good when there are comments by customers affirming the eco-friendly comforter was manufactured in a fair trade certified factory. 
Check your budget
Finally, consider your budget. Budgeting for your certified organic eco-friendly sustainable comforter will depend on your preferred size, materials, and construction. Setting aside a budget of about $300 is enough for an organic comforter with excellent quality.
CONCLUSION
Finding the best organic comforters in the market will be a breeze when you keep in mind that you need to look for: Authentically organic GOTS-certified Verified by real users The price is reasonable and affordable Always settle for the best. Choose wisely for that healthy and luxurious sleeping experience your family deserves.