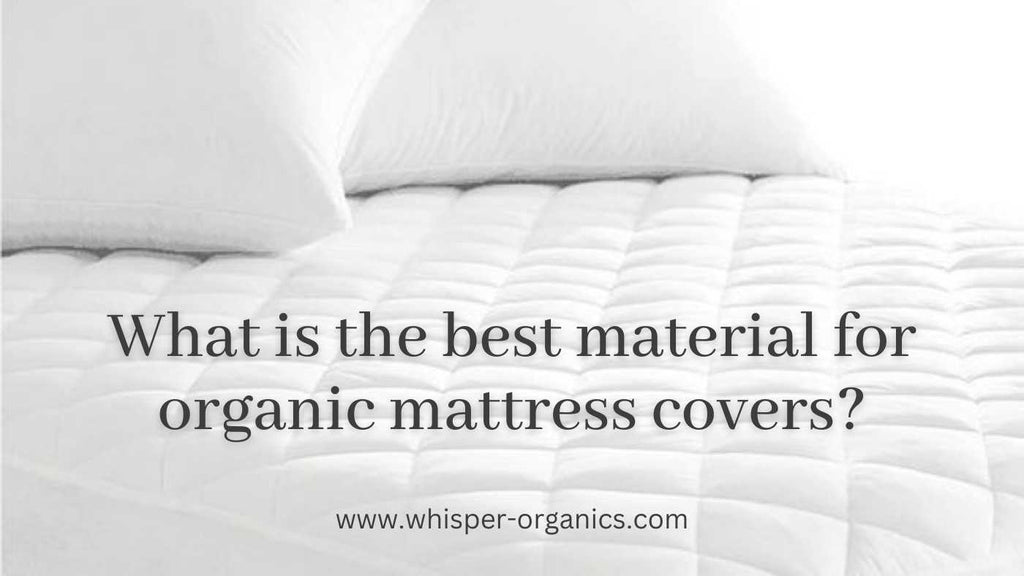 What is the best material for organic mattress covers?
What is the best organic mattress cover material? It is organic cotton, hands down.
Since ancient times, organic cotton users have attested to its excellent quality. It provides luxurious and extra-soft comfort even for babies and the elderly. You can rely on its durability for a long time with proper care.
Read on and learn more about why organic cotton is the best material for your organic mattress protectors.
Check out the overview of this article below:
- What is an organic cotton mattress protector?

- 

Is organic cotton the best material for your mattress protector?

- 

Why is GOTS-certified organic cotton the best material for organic mattress protectors?
What is an organic cotton mattress protector?
A good night's rest is precious, delightful, and beneficial to your health. It is the chance your body gets to surrender to the comforts of your bed and restore its energy.
The next best thing is to have the best bedding to keep your sleep pure and simple. What do you need? An organic cotton mattress protector for that peaceful, healthy sleep.
Organic mattress protector in a nutshell
An organic mattress protector is a type of bedding wrapped around your mattress as protection from stains, debris, spills, and other things. It is made of organic materials such as cotton, wool, and bamboo. These materials all ensure protection from toxic chemicals that can harm your family's health and well-being.
Different types of mattress protectors
There are different types of mattress protectors you can choose from. Read on and find out.
Encased. Buttons or zippers seal encased mattress protectors to keep your mattress fully covered and protected from dust, dust mites, bed bugs, and other allergens.
Buttons are highly recommended because they keep your mattress's shape, unlike a stiff zipper. Another advantage of buttons is they are easy to replace. Zippers, on the other hand, need to be fully ripped. You may prefer to replace your mattress protector instead if it is too much work or if ripping will damage the mattress protector.
Fitted sheet styled. These mattress covers can snugly cover the top and sides of your mattress. So, it is best to get the correct measurements so it will not move around and cause restlessness while sleeping.
Elastic bands. A mattress protector with elastic bands is a fabric that covers the top surface of your mattress. Attached elastic straps are strategically sewn into this fabric. You will need to hook the elastics to the bottom of your mattress to keep it in place.
Other types of mattress covers. There are mattress covers that are specially designed for unique needs. They include:
Cooling mattress covers. These types of covers are designed to draw out heat from your body. Some manufacturers use special gels, while others are made of natural materials such as cotton and wool.
Crib mattress covers. Crib mattress covers are designed to fit your baby's crib. It is best to choose waterproof covers to keep your baby dry from common bedwetting, drool, and accidental spills. A hypoallergenic cover also is beneficial for your baby's protection.
Tips on what to look for in an organic mattress protector?
When shopping for an organic mattress protector, these are the essential things you need to look for:
Waterproofing.
A mattress protector with waterproofing is your best shield. They keep your mattress from getting ruined and soiled. You are saved from the tedious cleaning of your mattress and have a lot more time for enjoying your clean bed.
Machine washable.
When shopping for your mattress protector, check the care instructions to ensure that the product is machine washable and can be tumble dried. Rest assured that most good quality organic mattress covers are.
Comfort.
Give your prospective mattress protector a feel test Check if it makes sounds as you lie on it. Also, test if it is soft and comfortable on your skin.
Choice of fabric.
For organic fabrics, there are three materials offered as certified organic in the market: cotton, wool, and bamboo—more on these choices below.
Comparing the different organic materials for your mattress cover
Cotton, wool, and bamboo are the top organic mattress protector materials. Check out the pros and cons of these organic materials below:
Organic cotton.
Organic cotton is the most available, accessible, versatile, and time-tested organic fabric in the market. It is popular because it is soft, comfortable, easy to handle, and durable.
Organic cotton's ultra-softness and breathability stand out as a popular material for mattress covers. Plus, it is naturally hypoallergenic. So, it can keep your family safe, cool, and comfortable without using harmful chemicals.
With proper care, a machine-washable organic cotton mattress protector can keep its best quality for many years.
Wool
Wool is another organic material used since ancient times. It has numerous benefits, including:
- Stain, mold, and mildew resistant.

- 

Naturally water repellent.

- 

Neutralizes smells to keep it odor-free

- 

Breathable

- 

Fire resistant

- 

Naturally hypoallergenic

- 

Easy washing
The drawback of wool, though, is it is not readily available as a mattress protector. Bedding manufacturers offer more wool products as mattress toppers and mattress pads.
Bamboo.
Bamboo fiber has several benefits, like cotton and wool. They include:
- Comfortable and soft

- 

Highly absorbent and breathable.

- 

Hypoallergenic

- 

Resistant mold and mildew, bacteria and odor

- 

Wrinkle-free and machine washable
The drawback of bamboo fiber is its qualification as a natural organic fiber. According to the Global Organic Textile Standard (GOTS), almost all bamboo fabrics available in the market are not natural or organic bamboo. GOTS classifies it as a rayon fiber for which the cellulose is regenerated through the viscose/rayon process.
For textiles made from organically grown bamboo, manufacturers can incorporate up to 10% to pass the "made with organic materials" GOTS certification.
Is organic cotton the best material for your mattress protector?
Organic cotton has more advantages from the consumers' end when compared with wool and bamboo. Here are its benefits:
Certified organic cotton is accessible. Compared to wool and truly organic bamboo fiber, organic certified cotton is accessible. Certified cotton's accessibility is important because fraudulent organic products are sold alongside genuinely organic ones.
There are significant differences between organic and fraudulent products. Check their differences below:
You know what you are buying. Certified organic products list their accountability in their standards and publish them publicly. Frauds mislead or outrightly put down information to make you think they sell organic products.
You get value for your money. The entire supply chain of genuinely organic products carries higher costs because of the care and diligence put into the products. There are no shortcuts because little things can seriously affect the user's health.
For example, a pesticide used can contaminate cotton fibers. End users sensitive to pesticides will develop symptoms such as allergies and asthma. Users can be harmed unknowingly when fake organic products are left unchecked and untraced.
You are assured of health and safety. You know you are healthier and safe because you get a truly organic product. Your sleep will be enjoyable, relaxed, and refreshing.
GOTS-certified organic cotton mattress protectors are available in the market. It is easy to access GOTS-certified organic mattress protectors. There are wide varieties of certified products to choose from.
Choosing GOTS-certified products assures you of genuine eco-friendly mattress protectors. Scroll down to see why it is the certification you need for the best quality and safety.
Why is GOTS-certified organic cotton the best material for organic mattress protectors?
Sleep quality is what you pay for when buying a mattress protector. To be sure, experts recommend GOTS organic cotton mattress covers. GOTS certification standards are cut above the rest, and having its stamp means receiving a gold standard approval.
Reasons why GOTS certification means genuine quality and safety
GOTS is the globally accepted gold standard for organic textiles. It was founded by four well-reputed organizations that are experts in organic agriculture and organic textile production.
The standards are clear. GOTS will only certify when the product comes from organic seed and is processed, manufactured, packaged, and brought to you through organic means. Included in the stringent standards and protocols are ethical requirements towards the environment and humane treatment of workers.
So, you are assured that your mattress protector is purely organic when it is GOTS-certified organic cotton. It will give you all the benefits certified organic cotton offers: ultra-soft comfort, hypoallergenic, free from toxic chemicals, and made in healthy farms and factories.
CONCLUSION
Organic mattress covers protect you and your mattress from unhealthy elements and substances. It is a bedding item you need for your sleep every day so you can feel refreshed every time you wake up. That is the reason why getting the best material for your mattress protector benefits your family's health and safety.
For the best material for mattress covers, experts agree on GOTS-certified organic cotton. Mattress covers that are GOTS-certified are genuinely organic, free from harmful chemicals. They give the best protection, comfort, and restful sleep only organic cotton can provide.