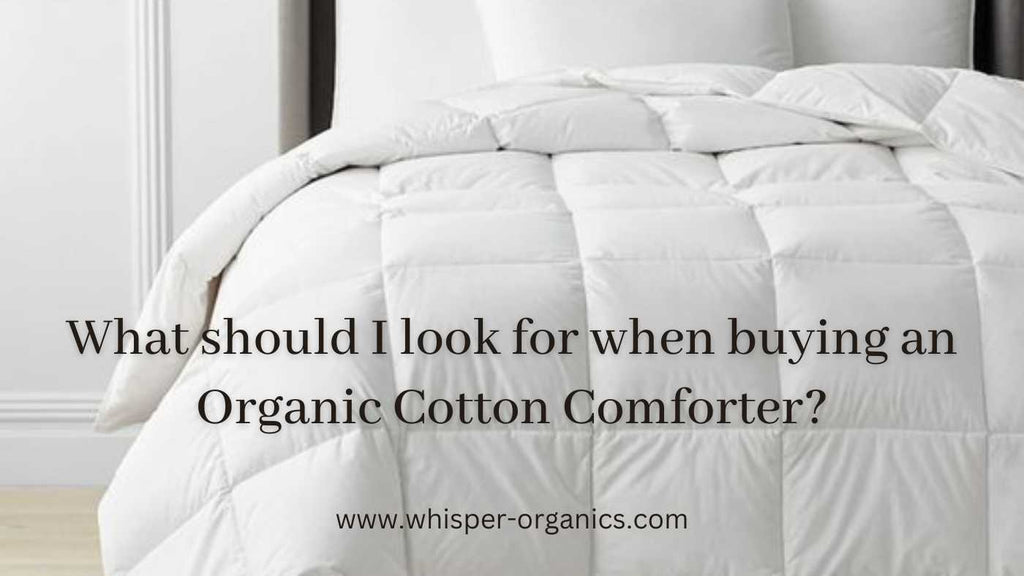 What should I look for when buying an organic cotton comforter?
You want to buy an organic cotton comforter to get rid of toxic materials present in regular cotton products. But you're worried by reports about products in the market made from fake organic cotton. What should you look for when buying an organic cotton comforter?
This article will cover these topics:
How to avoid fake organic cotton?
Buying genuine organic bedding is a wise choice
What is the problem with synthetic comforters?
Reasons why organic cotton is a good investment
How to avoid fake organic cotton?
Organic is a popular label because we all want to be healthy. With all the toxic chemicals in our food, water, and clothing! Your comforter may look fluffy and clean. But are you sure it is made from genuine organic cotton?
Don't fall for greenwashing!
What is greenwashing? It is similar to brainwashing. 
It means telling consumers that certain products are organic and environmentally friendly when they are not. But why do sellers do this unethical marketing strategy? Because there is a high demand for healthy organic products. They know that selling organic cotton is good business.
Unfortunately, consumers who are not careful end up greenwashed - spending money on fake organic cotton.
How can we know that the comforter we are eyeing is truly organic cotton?
The best way to find out is to check for the GOTS label. GOTS stands for the Global Organic Textile Standard (GOTS). It is the leading worldwide textile processing standard for fibers. GOTS ensures that the fibers and products they certify are genuinely organic. A GOTS label on a comforter means it is made from pure organic cotton. 
Organic cotton is environmentally friendly. The farming techniques used in planting and producing organic cotton keep the earth healthy. Seeds used in organic farming are not loaded with agrochemicals.
It follows that using organic cotton is socially responsible. Farmers and laborers producing organic cotton work in safe working conditions.
Buying genuine organic bedding is a wise choice
The assurance of a GOTS certification for your organic comforter will give you more reasons to have a peaceful slumber. 
Organic cotton is your best healthy choice!
Since you spend more than a third of your day in bed, you need to get the best organic comforters. And nothing beats 100% organic cotton.
Organic Cotton has been the best choice for bedding since ancient times
Since ancient times, organic cotton has been the best choice for bedding. The oldest recorded use of organic cotton fiber was in 3,000 B.C., back then when farmers didn't use toxic chemicals to handle pests. Here's what makes organic cotton the best material for your comforter.
1. Organic cotton is comfortable.
2. Organic cotton feels good on the skin.
3. Organic cotton is "breathable". It has microscopic pores that allow good airflow. It helps regulate body temperature.
4. Organic cotton is naturally antibacterial.
5. Organic cotton gets better as it grows older. The natural fibers of organic cotton break down through time, making them softer and more comfortable.
Organic cotton rejuvenates and detoxifies your body
Have you ever enjoyed the bliss of sleep and restful waking because of organic cotton? Where the silken slumbering of your whole mind and body seamlessly and gently awakens to the ultra-soft touch of your organic cotton comforter? That is what organic cotton can give! They should be able to help us slip into a good restful sleep, keep us in that soft organic cotton cocoon, and nestle us in its warmth until we wake up again.
What is the problem with synthetic comforters?
The wrong comforter is not breathable
Comforters need to have large pores and can absorb moisture. Pores make a difference between organic cotton and synthetic comforters. A non-organic comforter will give you night sweats. You would frequently wake up because of the discomfort. And if you are hypersensitive because of an autoimmune or mental health condition, you'll have difficulty sleeping. This is not good, especially for those with insomnia. You won't use this when using beddings make from organic cotton.
The wrong comforter is unhealthy
Having the wrong comforter makes health conditions worse. Insufficient sleep keeps you from resting and rejuvenating your body because you'll spend your time in bed sneezing and scratching your skin. GOTS-certified organic cotton, on the other hand, is good for your sensitive skin. Organic cotton lets the skin breathe, reducing the risk of skin rashes. What's more? Organic cotton can effectively repel dust mites, pollen, and other allergens!
The wrong comforter is not durable
Comforters made from synthetic materials do not last long. They are easily damaged by natural elements. On the other hand, organic cotton can last up to three times longer than synthetic comforters. The quality even gets better as it ages because of the breaking down of its fibers. Organic cotton gets softer and better for getting into that quick power nap or a lovely long slumber.
The wrong comforter harms the environment
Synthetic comforters are not environmentally friendly. They are made from cotton bombarded with harmful pesticides. Some organic beddings are also mixed with synthetic fibers that are not biodegradable. That's why you should choose GOTS-certified organic cotton.
You can easily verify if the brand is genuinely organic by searching the GOTS database. For Whisper-Organics, you can key-in 853319 and GOTS will show you some details of the brand's license. Here's what it looks like:
The right comforter gives you peace of mind
Having an eco-friendly comforter will keep your mind at rest. It does not carry harmful toxins while you are using it. Plus, because it is biodegradable, disposing of an old organic cotton bedding is not a problem because it will not cause damage to the environment. Organic cotton easily decomposes and breaks down into nutrients for the earth.
Don't underestimate the stitching quality of your comforter!
Organic cotton can give you comfort all year round. It can keep you cool during warm and dry seasons and give you enough warmth when it is chilly and freezing. So, if you want the best organic cotton comforter, always check the stitching. Poorly stitched and badly constructed comforters will cause the filling to shift and be lumpy. The organic cotton filling has to be well distributed by quality stitching. 
Reasons why organic cotton is a good investment
Compared with comforters made from synthetic materials, organic cotton comforters are not cheap. But are they worth your money?
A good investment improves your welfare. And for mattress comforters, that means comfort, health, durability, cost-efficiency, and sustainability. Organic cotton can provide your these benefits and features.
Organic cotton promotes your health
Organic cotton comforters are breathable and can repel dust mites and allergens. This spells a big difference in health implications as compared to synthetics. The latter is less breathable and less comfortable for hot sleepers and people with higher sensitivity.
Organic cotton is durable
Organic cotton comforters are durable as long as it is washed carefully. It can repel dust mites and mold-causing allergens.
Organic cotton is cost-efficient
Organic cotton comforters may be expensive. But they last about three times more than synthetic comforters. That is a clear win for organic comforters certified by GOTS.
Organic cotton is environment-friendly
Sustainability. Natural materials always get a better score on sustainability versus synthetic ones. Because they do not carry any harmful chemicals, they pose no threat to consumers or to the environment. Here's illustration of how farming methods in GOTS-certified farms support the environment:
Conclusion
Buying the wrong kind of comforter will give you many uncomfortable nights. When you buy an GOTS-certified eco-friendly comforter, you will be rewarded with a good night's sleep. You'll enjoy a blissful slumber every day. It can be a quick power nap, a little snuggle time with a loved one, some quiet thinking and working moments, or a restful sleep after a challenging day.
Whisper-Organics organic cotton comforter only uses high-quality materials and methods. Here are some of the many features you will enjoy:
100% GOTS-Certified Organic - It is an all-season-down alternative comforter that's safe for your family
Ultra-Soft Twin Size Comforter - This 300 TC, 600 GSM cotton wadding, will make you want to stay in bed all day.
6-Inch Diameter Diamond-Stitched Squares – Its classy diamond stitching keeps the filling from shifting. This structure is well suited for comfort and warmth.
Invest in an organic cotton comforter. Remember: A wise investment will keep you happy because its return on your health is worth more than all the riches you can gain.